Top 5 Chromatic Harmonicas
Chromatic harmonicas may not be as popular as their diatonic siblings, but there's still a large variety of makes and models available. In this article we choose our top 5 chromatic harmoncias, across a range of price points.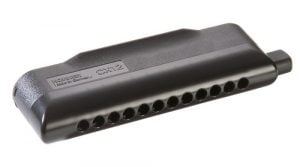 The CX12's looks may not be to everyone's tastes – harmonica players are often traditionalists when it comes to aesthetics, after all – but there are no doubts about its ergonomics or tone. The plastic casing is lip-friendly and is designed to enable tool-free removal of the reed plate/comb module for cleaning and general maintenance.
Skeptics may point to the extensive use of ABS in the CX12's construction as a sign that the tone would be inferior to a wood/metal harmonica, but a quick play soon dispels any of these reservations. The CX12 has a smooth, clear and deep sound that belies its appearance.
The Symphony 64 is Seydel's top line chromatic harmonica and has a number of features that really make it stand out from the crowd. Two versions are available – ACRYL and ALU – which differ in their comb material (acrylic and alloy, respectively) and mouthpiece profile. Both are supplied with a heatable hard case, which is designed to ensure that the Symphony is at the ideal temperature for playing immediately prior to use.
In common with the majority of Seydel's harmonicas, the Symphony 64 features German silver reed plates with stainless steel reeds. These provide a clear and bright tone and are exceptionally durable.
It may be fairly expensive, but the Symphony 64 outperforms some very high end harmonicas that are almost double its price.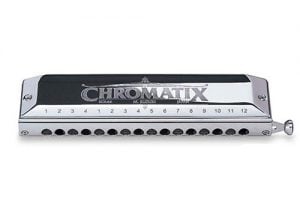 Suzuki's SCX-48 is one of the first harmonicas to which we direct customers who are seeking a professional level chromatic without wishing to break the bank. Build quality is second to none and the phopshor bronze reeds combine exceptional responsiveness with a sweet tone and superb durability. An absolute bargain in all of its iterations (12, 14 and 16 holes, denoted by the 48, 56 and 64 suffixes, respectively).
Although the £100 price point will get you a very high end diatonic, chromatics are more complex, and thus, more expensive, beasts, meaning that this is really the entry point for a quality German or Japanese made instrument. Thankfully, Hohner's Discovery 48 is a real bargain, coming in at just under three figures. Reed plates are shared with the long-running Chromonica 48, but the Discovery differs in that it utilises a plastic comb and bolted, rather than nailed construction. These differences, in our eyes at least, make the Discovery the better harmonica, despite its being considerably cheaper than the Chromonica. Changing reed plates and general cleaning is much easier without having to deal with nails, and the plastic comb is completely swell resistant.
Several customers have bought Discoveries as spares to be used when they have problems with their main, far more expensive chromatics, but have found that they actually love the sound and feel of this moderately priced harp.
The Amadeus is the most expensive harmonica on this list, at close to four figures, but it is widely regarded as one of the world's best chromatic harmonicas, and the equal of instruments like the uber-pricy Silver concerto, which are many times its price.
Browse the internet and harmonica forums for reviews of harps and you'll often find a range of opinions. Some harmonicas will be described as amazing and awful by two different players. The Amadeus is, perhaps, unique in that there are no dissenters; all reviews are unanimous in their praise for this instrument.
Jonathan Prestidge